Do you want to make an extra bedroom in your house? Or do you have an empty space that you need to fill up? Well, there are a few things that you can do to transform this small space into a functional one. A DIY project might just be the solution to your problem.
Nowadays, homeowners are spending a lot of money on home improvements to make an extra room in their houses to make them look better. They want the best furniture and decorations that can help them save time and energy. It's simple – if you want to get rid of extra space in your house, then it is important to know how to make an additional bedroom, playroom, guest room, living room, family room, game room, or home office in your house. The article will teach you how to add an extra bedroom or living space to your house.
How much money will it cost me to make an extra new bedroom in my house?
This is a difficult question to answer as it depends on a number of factors, including the size, square footage, and layout of your house, the type of roofing you have, and the materials you choose for renovation. However, generally speaking, it will cost between $2,000 and $6,000 to make an extra bedroom in your home also this will increase the value of your home.
What is the best way to make an extra room in your house?
There are a few ways to make an extra bedroom in your house. One way is to add on to your home. You can do this by adding a room on the side, the back, or the top of your home. Another way is to build an addition onto your home. This can be done by adding a separate living area, kitchen, or bathroom. You can also buy an existing home and convert it into a second bedroom also you can use any unused space. This can be done by adding on a wall, flooring, and roofing system.
Do I Need Planning Permission to Make an Extra Bedroom?
You don't require planning permission if you're simply transforming your garage or basement into a bedroom. However, if you want to add a new structure to your house to create an extra bedroom, you may require a building permit or planning permission. The amount of permission you need to apply for will depend on where you live in the world and the laws governing your region.
If your additional bedroom is about 120 square in Los Angeles, for example, you do not require a permit. ft. With a roof height of 12 feet or less, it is a bad roof. or less. Any structure larger than that will require a building permit that will be withdrawn 180 days (about six months) from the issue date. You'll have to apply for a new permit if the validity period doesn't expire before you start working on the new structure.
In the UK(United Kingdom), you won't require planning permission for an additional room with a single-story structure that stretches for less than eight meters starting at the rear wall of your house. Because laws vary and each case may be handled differently, consulting your local council is the safest way to get about it.
1. Divide a Large Room in your house:
Dividing large rooms in your house is a great way to create extra space and make it easier to organize your home. If the room you want to create an extra bedroom is in a central location, consider dividing it into two smaller rooms by building a wall between them. This will not only create an extra bedroom but also give you more space for storage and other activities.
2. Build an Extension Sideways:
Depending on where you'd want it and the amount of space you need, you can make a bedroom extension on the side or back of your house. This would be the best option, but it would also kill the space in your garden. You'll also spend a lot of money because you'll need to employ contractors to make sure that the structure is up to standard. recall, the new structure should not obstruct sunlight from getting into the home.
3. Add a Bedroom on the Second Floor: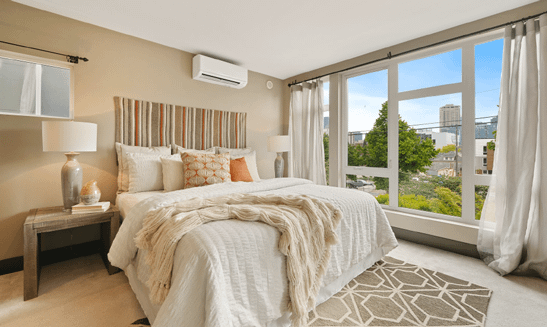 If you don't have room to add extra bedroom space in your home or you want an extra level of privacy, consider building one on the second floor. This will require planning permission and some careful calculations because the height and width of your new structure must be within legal limits. You'll also need to factor in the cost of structural support materials such as beams, columns, and trusses.
The space you need for a huge cozy bedroom will be provided by building a second story to your house. You may, however, be forced to leave the house for some days depending on what the contractors suggest. One option would have to get the extra room built separately. Then let contractors temporarily separate your roof from its hinges. They can place it back on after the room is built.
4. Build a Bedroom over a Garage:
The space above it is sufficient for a comfortable bedroom whether you own a sole or two garages. The main benefit of this is that you will not be spending any garden or compound space. To verify that it is hearty enough to carry the weight of the new structure, a qualified contractor must drill the garage foundation. You must also consider the possibility of building a stairwell to the current bedroom.
5. Convert an Attic into Room using loft bed: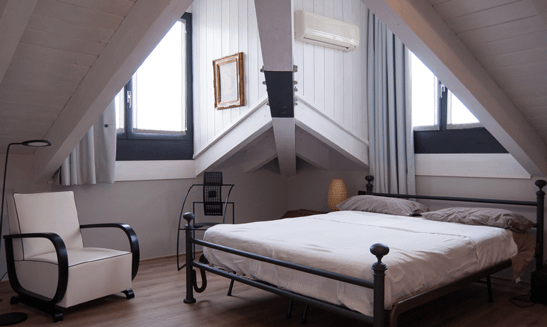 If you don't have the extra bedroom space, but still want to make use of the attic's available space in your home, consider it to make an extra bedroom in your house. This can be a good idea and done by installing flooring and doors so that the attic becomes habitable. The cost for this conversion will vary depending on the size of your attic and what materials are needed for insulation and waterproofing.
6. Create a Mezzanine Level:
A mezzanine can be an impactful way to add an extra room to your home if you benefit from high ceilings in your space. A mezzanine is viewed as widening a room's floor space, so even though you may not have a bedroom that is open onto another, possibly communal room, it does provide the possibility of re-purpose the existing spaces for a bedroom.
7. Convert your Basement into a Room:
If you don't have enough space or spare room and the attic is unavailable, your basement could be converted into a new space to use as a guest bedroom. This conversion will require all of the same materials as if converting an attic including insulation, waterproofing, and flooring. The cost for this project will also vary depending on the size of your basement.
8. Garage Conversion: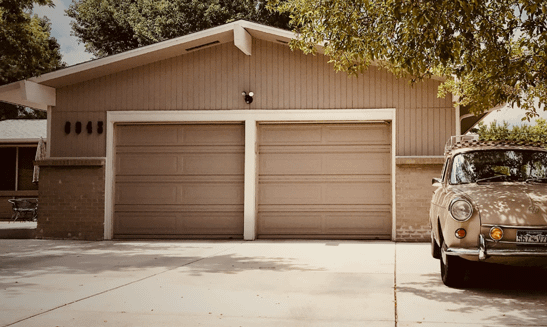 One clever idea would be to convert your garage into a living space by constructing a room on the first floor and adding an extra door. The cost for this project will depend on the size of your garage, the type of construction used, and any additional features such as plumbing or heating that are required.
9. Add an extra room to the Side of your House:
If you have extra bedroom space on one side of your home, but not the other, consider adding an extra room onto that side of the house. This can be done by building a wall and ceiling between the current bedroom and living area. The cost for this project will again depend on the size of your home and any additional features such as plumbing or heating that are required.
How Can I Extend My House Cheaply?
You may need to increase the value of your house before selling it, or perhaps you want to make more room for your growing family. Extending a house is a huge project that can cost a lot of money, but not everyone needs a huge budget. You might have anxiety thinking about an extension project when your cash is tough. The bad news is that by applying these tips, you can fix it quickly:
1. Plan all the Details required in Advance:
Anything that requires investing money is always a bad idea, especially if planning well in advance for it. You must know all of the details down to when it gets to your house extension. It can help you compare with various suppliers for the biggest bargain by demonstrating prices for all of the fittings, floorings, and accessories you require. The last thing you want to feel is expensive purchases made at the last minute when you could have gotten them cheaper if you had planned ahead.
2. Start Your House Project During Dry Months:
When the weather is poor (rain, wind, and thunderstorms), a house extension project is not a great option. The project will be longer, which will lose you more money in labor costs. Also, if you had migrated out to rent elsewhere during the extension, you will have to waste more money on housing. The rain and wind could ruin the materials and cause damage to all of the work. During the dry months, the best time for this project would be.
3. Use a Simple Design Plan for your project:
The easier the design plan, the more affordable your extension project will remain. pretty and elaborate designs are chic and sophisticated, but who told simple designs couldn't be beautiful as well? One with curves and intricate details will be more than a basic square or rectangular shape extension. invest less on a basic design plan with less complicated details and the ability to access easily accessible materials.
4. Manage your home Project by Yourself:
For their time spent managing the extension project, a contractor will charge you an extra 15% to 25% of the overall charge of material and labor. By handling the project yourself, you'll spare a lot of money. In order to work, you'll need to collaborate with the architect/designer, as well as building department officials in your area. You'll also be in charge of hiring workers, overseeing them, and providing building materials. It's a lot of work, and there are some significant savings involved.
5. Buy Used Materials to Make an Extra Bedroom in your House:
Getting fresh materials is good if you can afford them, but if you need to save some money, used materials can do the job as well. You'll occasionally encounter second-hand building material that is still in good working condition. They can be found on salvage yards and on the internet if you need them. Bricks, roof tiles, floorboards, doors, and fireplaces are just some examples of affordable, widely used building materials that deliver great value.
6. Find Great Trade Deals:
Do some research and find out the wholesale sources of all of these materials in order to obtain the same prices as the traders. Ask for a discount; sometimes, paying in cash gets you a discount. You must first obtain an acknowledgment of sale (receipt).
If possible, purchase your items in bulk from a single supplier and request a second discount. Find out whether free or low-cost delivery is available for a large purchase. You may not have the most well-known brand names, but make sure you are getting high-quality.
7. Stay on Site during the Project:
The extension project will be so complicated that your ability to remain on-site during the extension process will be limited. If you're expanding upwards, for example, you may be forced to relocate because the roof will be removed. It may not be much of a problem if you're stretching sideways. stay on-site if you can, either to conserve on accommodation costs elsewhere. If not, find a nearby friend or relative who can accommodate you on favorable terms.
How Much Would A 20-20 Room Addition Cos Cost?
When it gets to building a 20-20 room addition, there is no one price that fits all. There remain several factors at play, each of which is unique for each home. According to Home Advisor (a digital platform that connects homeowners with local home improvement professionals), a 20-20 room addition costs between $32,000 and $80,000 for homeowners.
The difference in cost will hinge on whether you choose a basic or luxurious room, as well as the types and sizes of elements you need in the room, the type of materials used, the site conditions, the location of the home, and so on. After weighing all factors, a qualified contractor would be in the highest position to offer you an exact quote.
How Much Does It Cost to Add A 10×10 Room?
The average cost of a 10×10 additional room is $20,000. The type of room you build, on the other hand, will control the exact cost. A mudroom, family room, living room, kitchen, laundry, or bathroom are not the same as a second bedroom.
How much cheaper or more costly the room will be than its average cost will be as a result of components such as cabinets, flooring, closets, plumbing, and others. Painting, finishing, insulation, flooring, plumbing, electrical, framing, and other activities will all leave an impact on the cost of your extra room.
Is It Cheaper to Build Up or Out?
The answer to this is not clean-cut and is dependent on a variety of factors. When it gets to make an extra bedroom in your house which means expanding a home, building up is typically less expensive than building out. Although building out is a popular option, one of the main reasons it is considered more expensive remains that it demands more material and labor. Excavation, concrete, and a roof system are all things that you may not need if you choose to build up.
If you have to book housing outside of the home while you wait for the builders to complete the project, building up could be costly. The amount of money you would have paid by the end of the project would be significant, and if the work was delayed for any reason, even more money would have been spent. You may not have to move out while you are building out.
The strength of your foundation would be another factor. The foundation must be sturdy and enough to sustain the weight of an additional structure, according to your contractor. They'll need to reinforce it by retrofitting if they find it to be not tough enough. Excavation, separating walls, and replacing them will cost you more money.
Building up would be a cheaper option because you won't need a foundation or a lot of other things that you would use if you were cutting out under all conditions.